Shivaji Rao Gaekwad who is known as Superstar Rajinikanth is an Indian actor who worked in Tamil cinema on his primer stage of life. Before his acting career, he used to work as a bus conductor in Bangalore Transport Service. He is also a producer, philanthropist as well as screenplay writer. He was born on 12th December 1950, Bangalore, Mysore State which is now known as Karnataka, India. He is currently living in Chennai, Tamil Nadu, India. Talking About Rajinikanth Family He belongs to a Maratha family. He is the son of Raoji Rao Gaekwad who was a police constable and his mother Jijabai who was a housewife. He has two elder brothers named as Satyanarayana Rao and Nageshwara Rao as well as he has an elder sister Aswath Balubhai. He is the youngest child in his family. He went to Gavipuram Government Kannada Model Primary School where he attended his primary school's education. He was the studious boy, but he was also notorious child too who has his keen interest in football, basketball, and cricket because he was notorious his brother enrolled him in a math of Ramakrishna Math. He taught Vedas, all the tradition and sense of spirituality through history in the calculation. He started to participate in math's mythological act. Then he attended Acharya Pathasala Public School during his pre-university course. In Bangalore, he has done many jobs like coolie, carpenters and then got a job as a bus conductor in Bangalore Transport Service. During a stage performance he got in the eyes of K. Balachander who was a Tamil Director, he gave him the advice to learn Tamil, and he followed the same.
Rajinikanth Life Story:
He got married with Latha Rangachari on 26th February 1981, Tirupati, Andhra Pradesh, India. Rajinikanth met her during an interview which was taken by her at her college for college's magazine. Talking about Rajinikanth Family They have two daughters Aishwarya and Saundarya Rajinikanth. Latha is running a school "The Ashram." Aishwarya married Dhanush, and they have two sons Yathra and Linga. Saundarya got married to Ashwin Ramkumar, and they have a son Ved Krishna. He has a total net worth of $55 Million. He has height 5'8" or 173 cm and weight 73 kg with body measurement Chest- 40 inches, Waist- 33 inches and Biceps- 12 inches. His dark brown eyes and salt-pepper or semi-bald hair makes him looks bold. He likes reading, acting, and he wants to travel as much as he can.
He starts his career from a Tamil movie Apoorva Raangangal in the year of 1975. Action Superstar Rajinikanth has done 20 different films in various languages i.e. Tamil, Kannada, and Telugu in the years after 1978. His movies like Kiladi Kittu, Annadammula Savaal, Maathu Tappada Maga, etc. were the movies done in the Kannada language. He has done in several films and several languages apart from this he won 30 awards. He won 7 Cinema Express Awards, 1 Filmfare Awards South, 8 Filmfans Association Awards, 3 NDTV Awards, 1 South Screen Awards, 6 Tamil Nadu State Film Awards and 4 Vijay Awards. Even he has won 2 Padma Bhushan Awards in the year 2000 and 2016 for his work. His movies like Nallavanuku Nallavan, Sri Raghavendra, Bloodstone, Thalapathy, Annamalai, Valli, Baasha, Muthu, Aarilirithu Arubathu Varai, Enkeyo Ketta Kural, Sivaji, Enthiran, Peddarayudu, Mullum Malarum, Moondru Mugam, Padayappa, Chandramukhi, and Lingaa are his famous movie, or you can say that his award-winning film. He has also done Hindi movies like Robot, Hum, Seeta Aur Geeta, Kabali, Andha Kanoon, Insaaf Kaun Karega, Chaalbaaz, Shanti Kranti, Tamacha, Farishtey, John Jani Janardhan, Asli Nakli, etc. which were also the hit one. Apart from acting, he has written a screenplay like Baba.
Rajinikanth Political career:
He also has his political career. He supports Indian National Congress after he met with the Prime Minister, P. V. Narasimha Rao in the year 1995. When Congress Party decided to line up with All India Anna Dravida Munnetra Kazagam then he changed his mind and switched to support Dravida Munnetra Kazhagam – Tamil Maanila Congress i.e. DMK-TMC alliance. They got the victory in the year 1996 and later in the year 2004, he voted BJP i.e. Bhartiya Janta Party and for some particular reason, the party failed to get seats in Lok Sabha, Tamil Nadu. Then in the year 2008, his fans organized a party and forced him to be a part of it which is known as 'Desiya Gravatar Makkal Munnetra Kazhagam.' Then later he sent a letter to media which tells that he is not interested in politics, so it is about Rajinikanth political career, nobody can force him to enter it, or anyone could stop him to be a part of it.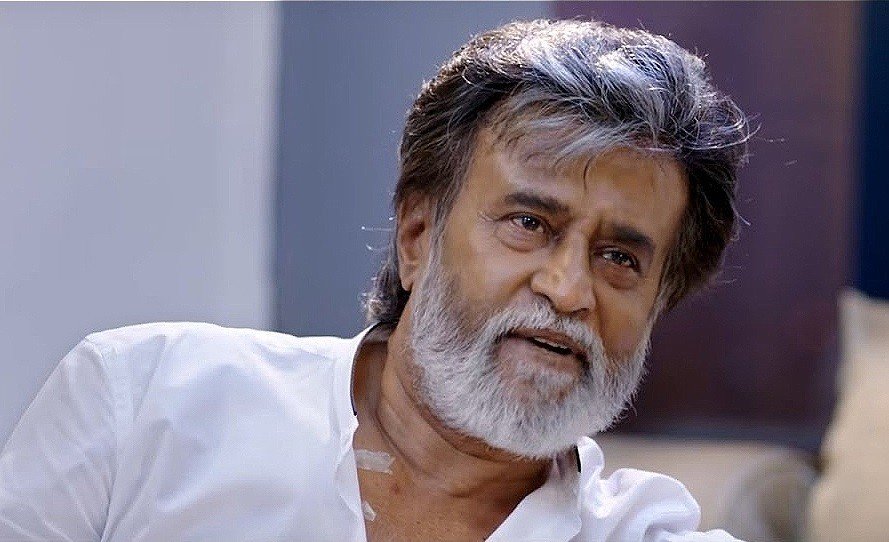 So This is the Autobiography of Rajinikanth. He is the man who gains praises by his fan not in Tamil Nadu but all over in India. He is like a god to his fans. He does so many social works for the people who couldn't buy a single grass to eat. He is called South Indian Action Superstar Rajinikanth, he knows several languages like Kannada, Hindi, English, Telugu as well as Tamil. He got the chance to play various roles at the different level, and there is no doubt that he is the remarkable actor which India has. He is a proud artist of India, and he is very straightforward, good and kind by his heart. Even every year, fans of Rajinikanth organize blood donation camp and eye donation camp.  They also dispense free food on his birthday every year. There is no other actor, who gets this much of fan following and who get praises this way. Even Superstar Rajinikanth gained a lot of respect by the people even film industries also.