Ganesh chaturthi Ganpati Bappa Maurya you must be hearing these chants among the huge devotees on Saturday, 22nd August 2020. This is 10 days big festival in India and celebrated by everyone in the country. Lord Ganesha is the son of Lord Shiva and Goddess Parvati Devi. Ganesh Chaturthi means you get rid of all obstacles in your life and filled with peace and joy. Bappa will stay at his
devotee's home for 10 days and bless them with peace and happiness in their life. Ganesh Ji also leaves home with a promise to come back next year at his devotee's home.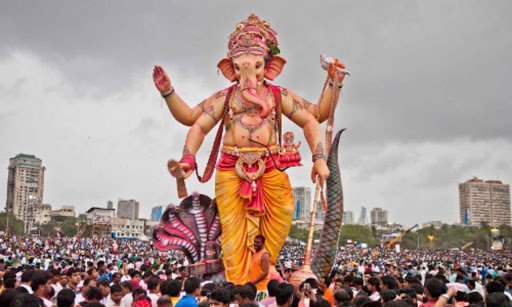 Ganesha is known for 108 names in India and people worship Ganesha on any occasion at their homes. Ganesh Chaturthi is celebrated in many states of India like Tamil Nadu, Maharashtra, Kerala, and Goa. Here we are going to tell you how to perform Ganesh Chaturthi puja at home with the necessary Puja ingredients….

Here is Puja Thali Samagri you need to collect- for Ganesh Chaturthi

 Lord Ganesha Clay made Moorti
 Water
 Piece of Red Cloth
 Fruits (Banana, Apple any)
 Turmeric
 Sandalwood Paste
 Betel Leaves
 Ghee, oil, and Lamps
 Camphor
 Saffron
 Fresh Flowers
 Modak or sweets
 Agarbatti & Dhoop Agarbatti
 Supari
 Grass Blades
 Coconut

Read more: How to Learn Traditional Bridal Makeup with Ease in Mumbai?
Process of Ganesh Puja or check how to celebrate at home-

 First, bring Lord Ganesha Moorthi at home with your family members. And yes before brining the Lord at home just make sure you have prepared all the necessary things in one place. Keep neat and clean the place where you will set the Ganesha Chaturthi Moorthi.


 Once you set and keep Ganesha Moorthi at a place in Home, start Puja with Thali of Aarti including incense, Agarbatti, flowers, Diya, betel leaf, Supari.

 Your all-family members have to attend Aarti with chants of "Om Gan Ganpatiye Namah Namo Shree Siddhi Vinayak Namo Namah" during the Aarti.

 While you bring the Lord Ganesha at home just ask all family members to shower of rice at the entrance of Lord Ganesha. Just put some uncooked rice on the place of Lord Ganesha will set at your home. Once you placed Ganesha at home just collect imperative things all together like, Modak, red flowers, coconut, Agarbatti, red Chandan, and grass.

 All family members have to take bath before sitting in Ganesha Chaturthi Puja. Now read the Ganesha Mantra while doing Puja, you can also invite the Pandit to do Puja at your home.

 Now time to put Tilak of red sandalwood to Lord Ganesha's forehead. Break the coconut in front of Moorthi of Lord Ganesha and chat the 108 names of the Ganesha.
 Keep the fruits especially banana in front of Ganesha Moorthy lighten up the Agarbatti and Diya. Just put Tilak to all family members.

 Join hands all family members and start chanting the Aarti of Lord Ganesha.
On this festival of Ganesh Chaturthi you get peace and happiness by Lord Ganesha he showers prosperity, wisdom, and good health. Lord has a place of Shubh among all Indians devotees.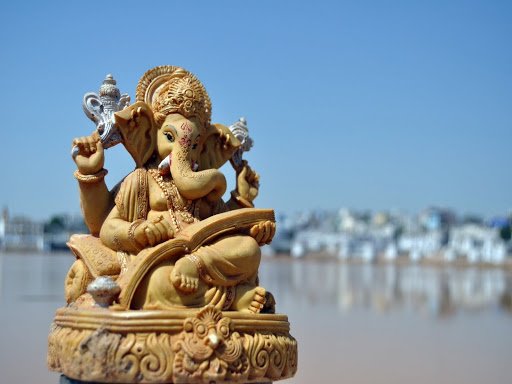 Here you read complete Ganesh Aarti-

JAI GANESH JAI GANESH JAI GANESH DEVA
MATA JAKII PARVATII, PITAA MAHAADEVA
EKA DANTA DAYAVANTA, CHAR BHUJA DHAARII
MATHE SINDUURA SOHAI, MUUSE KII SAVARI
JAI GANESH…
ANDHANA KO AANKHA DETA KORHINA KO KAAYAA
BANJHANA KO PUTRA DETA NIRDHANA KO MAAYA
JAI GANESH…
HAAR CHARHE, PHOOL CHARHE AURA CHARHE MEVA
LADDUAN KO BHOGA LAGE SANT KAREN SEVA
JAI GANESHA…
DINAN KI LAAJ RAKHO SHAMBHU PUTRA VAARI
MANORATH KO PURA KARO JAI BALIHAARI
JAI GANESHA.