Sachin is known as the God of Cricket for a good reason. He is the God of Cricket. This article tells us Sachin Tendulkar career stories as narrated by the Little Master himself.
Sachin used to be a miraculous player during his playing days. While he played, the TV sets were on in India and abroad and the Indian cricket fan never lost hope. The day of Sachin's retirement was an emotional one for all cricket fans and fraternity as it marked the end of an era for the Indian cricket team and history. Sachin's name was etched in history as arguably the best batsman known to the world.
Sachin's autobiography – Playing It my Way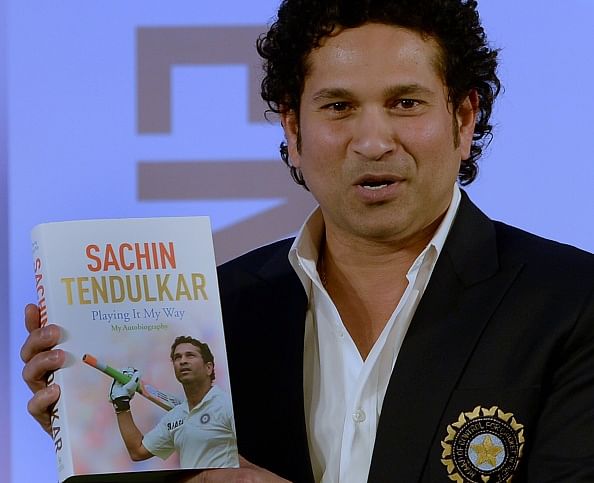 Sachin has also been adored for his humble disposition despite having achieved the heights of success in his cricketing career. When Sachin chose to release his biography – Playing It My Way, it was sure to be a bestseller before the first copy was read or reviewed. Sachin has way too many fans in the cricketing world, from India and abroad.
As was destined, Playing It My Way is one of the best-selling biographies in India and abroad. For a cricket fan, it is a must-go-through book, especially if one has been following Sachin's cricketing journey right from the time he broke into the Indian national men's senior cricket team at the age of 16 for the series against Pakistan, scoring a duck in his first innings at Gujranwala.
Stories in Sachin's cricketing career are many. Many people were born when Sachin was an active player in the Indian cricket team and got married when Sachin still used to play.
Without great skill, it is difficult to survive in the Indian cricket team for so many years. Sachin never played the second fiddle to anyone during his cricketing career. He was always the greatest batsman on the planet while his elongated cricket career lasted from 1989 to 2013. Two of the most formidable records that Sachin achieved were 100 international hundreds and the most ODI and international runs by any cricketer ever.
In this article, we take a look at some of the most interesting cricket stories that Sachin shared with us in his autobiography – Playing It My Way.
Sachin Tendulkar career stories from his autobiography – Playing It My Way
1. Does eating a duck mean that you will score a duck in the next game?
Sachin had a panache for eating a duck before a game. However, his brother Ajit always tended to go against his wishes. Ajit refrained Sachin from eating duck before matchday for a typical reason. In the prior match, three English players consumed a duck before going out to bat but they all scored a duck.
When Sachin planned an aromatic duck for dinner, Ajit told him he'd rather not.
2. Sachin Tendulkar and Ajit Agarkar kept consuming the same food over and over again
This is the story of India's tour of Australia in 2004. Sachin Tendulkar and Ajit Agarkar were concerned that their golden runs with the bat and ball continued. They chose to keep eating the same dishes over and over again for days at a stretch in a bid to see this happen.
At the end of day one of the Sydney test, in 2004, Sachin was 54*. He then frequented a Malaysian food joint for dinner.
At the end of day 2, Sachin had scored around 160-170. In the evening, he again went to the same Malaysian food joint and ordered the same food.
When he visited the same joint again at the end of day 3, the waiter knew in advance what food he was going to order. So, this one was one of the interesting Sachin Tendulkar career stories associated with the hospitality industry.
3. Arjun Tendulkar punches a critic
Arjun, Sachin's male progeny is possessive about his father and won't listen to anything against him. When the 2007 World Cup did not turn out as expected, mob fury found an orientation towards the Indian cricket team which was expected to put up a better show.
Arjun, though 7 failed to escape the vibes. Tendulkars knew what was coming and told Arjun to not react if teased at school. Arjun did take the advice but when told by a peer that his dad had failed and ended India's campaign, Arjun punched his peer.
4. Saurav tells Sachin, 'Tu Champion Hair Re'
Once upon being hit by a Shoib Akhtar bouncer, Sachin came to realize a little too late that his rib was broken. Dada took the chance to meet Sachin telling him, 'Tu Champion Hai Re', which translates to you are a champion.
Sachin had to hush Dada down, telling him that first, he needed to recover.
5. Anjali poses as a journalist to enter Sachin's home
It was in 1990 that Sachin first met his fiance, Anjali at Mumbai airport. They started interacting on the phone and decided to meet up.
Sachin, with his popularity under focus, chose to refrain from going anywhere outside the home to meet Anjali. So, they had to meet up at Sachin's place.
An entry for a girl within the confines of a traditional Maharashtrian home was never going to be easy. Anjali chose to portray herself as a female journalist and came to Sachin's home with the pretext of interviewing him. Sachin then cut a chocolate bar into half and offered it to Anjali on a plate. It was then that the suspicions of Sachin's sister-in-law were aroused.
6. Sachin in a Burqa
Sachin's fandom in India is no secret. So once, when injured, Sachin chose to appear in public in a burqa to visit a doctor. His typical selection of attire would let him escape the public gaze. He wanted no speculations on his niggle.
7. Sachin and Viru never watched the 2011 CWC final innings after losing their wickets
Sachin tells us that in the prior game played in Ahmedabad, he was getting a massage after losing his wicket, as Viru sat next to him. India did reasonably well in the game.
Sachin wanted the pattern to continue after he lost his wicket in the finals. So he told Viru to sit with him while the match lasted. He could watch the match's recording later, over and over again.
P.S. Most readers would be already aware of the fact, but India did win the 2011 World Cup. This one by itself is one of the greatest Sachin Tendulkar career stories.