About Sachin Tendulkar and his life:
Sachin Ramesh Tendulkar born on April 24th 1973 at Nirmal Nursing Home in Bombay Dadar in family of Maharashtrian is a prior cricketer of Indian cricket team. Mr. Ramesh Tendulkar, Sachin' father was a reputed Marathi Novelist and his mother served insurance industry many years. Sachin in his life known as greatest cricket batsman, little batsman, god of cricket and master blaster Sachin in the world, and started his career in age of 11 and scored his first test on November 15th 1989 in Karachi against Pakistan at the 16 years old age. He is only one player who made internationally one hundred centuries and first cricketer who scored double hundred centuries in one-day international match.
About Sachin A Billion Dreams Movie:
The Indian biographical movie, A Sachin Billion Dreams 2017 based on Indian Cricketer Sachin Tendulkar. The movie has directed and written by James Erskine and produced by Carnival picture motion and Ravi Bhagchandka under not out 200 productions. The film has been released on Friday, 26th May 2017, the movie has detained on Sachin personal life, real phases of his life, significant details, and most important his cricket life which have never seen or heard by the audience and his huge fan following.  The movie has altogether shot in different language including Marathi, English, and Hindi as well as dubbed in Telugu and Tamil language.
Sachin A Billion Dreams Premier Show:
The much-anticipated premiere of Sachin A Billion Dreams was finally held in Mumbai on Wednesday 24th May 2017 in the presence of superstar Amitabh Bachchan along with his son Abhishek and Aishwarya Rai Bachchan, King Khan Shahrukh Khan, Amir Khan, Sushant Singh Rajput, Anushka Sharma and whole Indian cricket team.
The Big Amitabh Bachchan got filled with emotional and pride to be born in India, where great master and Blaster Cricket Sachin Tendulkar lives. Amitabh stated that the movie is very fantastic and pride of India and the movie ought to be displayed to each single person in the country.
Cast, crew, music and movie review by the celebs and Indian Cricket Team:
Cast- Sachin Tendulkar as himself, Mahendra Singh Dhoni, Anjali Tendulkar as herself, Mayuresh Pem as Nitin Tendulkar, Virendra Sehwag and Sara Tendulkar as herself. Sachin has promoted the movie in London and revealed on renowned social media platform Twitter.
Release date- the movie is going to release on 26th may, 2017 Friday in all over the world in 5 different languages Marathi, Hindi, Telugu, Tamil, and English.
Music: The prominent music director A.R. Rahman has composed music for this film and lyrics written by Irshad Kamil. Three tracks were consisting released on April 24th, 2017 under Times Music.
 Sachin A Billion Dreams Movie Review and story:
The movie will start from few certain strike emotional chord moments of Sachin life, in which his sister gifted a bat to Sachin from Kashmir. The happiness of his expression on his face is contagious.
The audience will see a little energetic, full of mischief little boy as Sachin. This is youngest Sachin and beginning of an Indian legend.
After this the, movie part turned when Sachin; elder brother has taken him to the Ramakant Achreker, a legendary coach. On the field very first ball Sachin face has destroyed stumps. Ajit, Sachin's elder brother explained to Ratnakar that Sachin will pick up the right tricks and then comes the straight drives was known as Signature hit move of Tendulkar in the coming year of Sachin cricket journey. Achekar impressed and inquires to Ajit: Tumhare Bhai Ka Naam Kya Bataya?
And Commentator Tony Grieg is announcing in his unique expression: Sachin Tendulkar, The wonderful scene of the movie.
You will get Goosebumps during the watching movie when Waqar Younis and Wasim Akram charging on Sachin on the ground in a match. Younis bouncer hits Sachin on his nose during a match, which is the breathtaking scene of the movie. On this part, Sachin says that I cannot leave my country let down at this time and cannot leave the crease.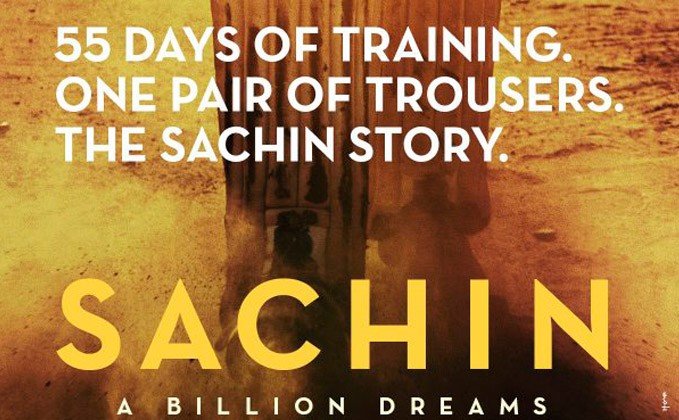 Hence there are various flashback scenes of the movie of set in the 90s, which will take you back in the flashback of the issues happening in the country at that time. The youngest Mumbaiker, later on, became an icon of faith for the billions of Indians.
The unbelievable occurrences of Sachin life was described in the movie, the utter disappointment was shared by the Sachin at the time of being removed his captaincy from Indian Cricket Team. And the word will impress audience when Sachin said that my captaincy has snatched from me but not my cricket.
The major moment of the movie will reveal when Don Bradman himself compares with Sachin. But the film will stand apart from all this with the moments and relationship way of Sachin that portrayed in the movie very beautifully.
The relationship of Anjali and Sachin with a lot of sensitivity and the support of Anjali to Sachin by leaving her medical career and how she stood with her husband is portrayed in the movie.
So the movie will give you an emotional and an energetic view of Sachin life, which you have never seen and heard by anyone.
The challenging parts of Sachin 's life are depicted with huge warmth and the story telling is at all articulate, times and crisp.
Releasing Date: 26th may 2017
Premier show-24th May 2017